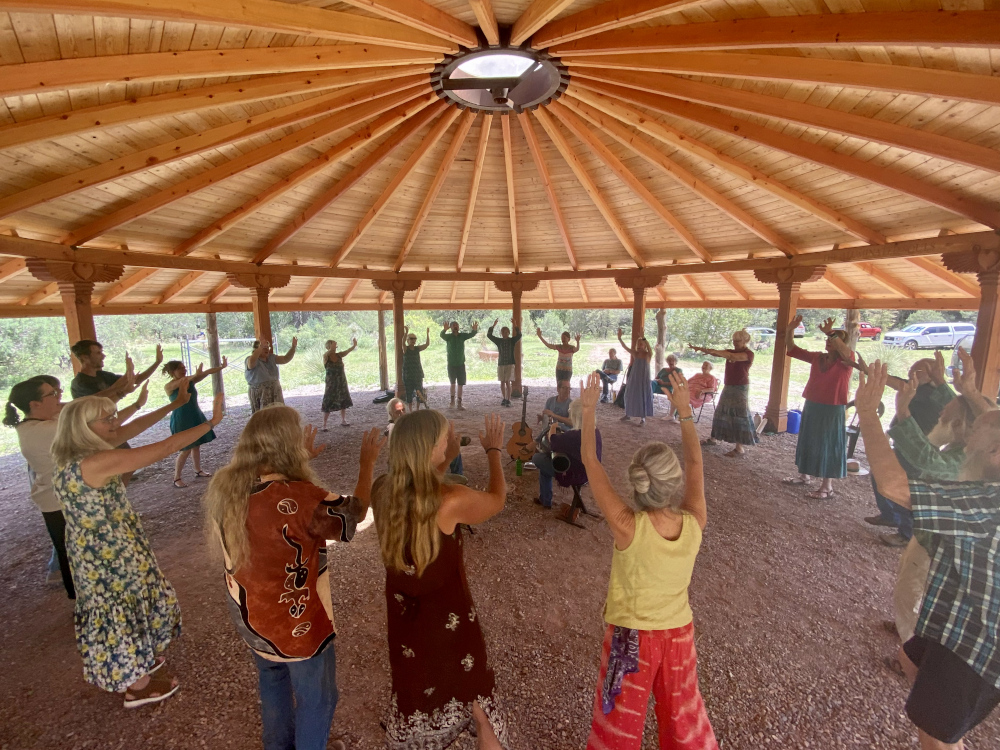 THE CALL OF LIFE: ENGAGED PRACTICE FOR A SUSTAINABLE FUTURE
with Pir Shabda Kahn and Murshid Allaudin Ottinger
and Guest Teacher Murshida Darvesha Macdonald

From Pir Shabda:
Join us at the Southwest Sufi Community during the Autumnal Equinox season, September 19th – 24th, in the symphonic silence and natural beauty as we unfold our aspirations to be living contributors to a sustainable future for all beings.
All of our worldwide problems, environmental, political, racial, gender, and prosperity inequality have been the result of human ignorance, greed, pride, jealousy and lack of self-worth. It is natural therefore that the solutions at their core rely on human beings practicing Loving Kindness and Compassion, which is at the root of all our lineage teachings.
EXPERIENCE THE BEAUTY OF OUR NEW DANCE TEMPLE BUILT BY MICHAEL KOTHRADE
SUFI TEACHINGS, ZIKR, SOHBET, DANCES OF UNIVERSAL PEACE
3 SUMPTUOUS VEGETARIAN MEALS EACH DAY
SACRED WALKS ON THE LAND
PIR MOINEDDIN & WALI ALI'S DARGAH GARDENS
EAT, DANCE AND PRAY TOGETHER IN THE EXPANSIVE GILA WILDERNESS
Participation is limited and spaces will go quickly. A few indoor beds in the newly renovated Retreat Center are available by reservations. Camping amenities include access to showers, outhouses, and fresh artesian spring water for drinking. Transportation from the local airport may be arranged for a small fee. Scholarships may be available.
CAMP IN YOUR TENT OR VEHICLE: $325
RENT BELL TENT OR ROOM (DOUBLE OCCUPANCY): $425
You can learn more about Southwest Sufi Camp 2023 on our Events page here.
CLICK HERE TO REGISTER FOR CAMP