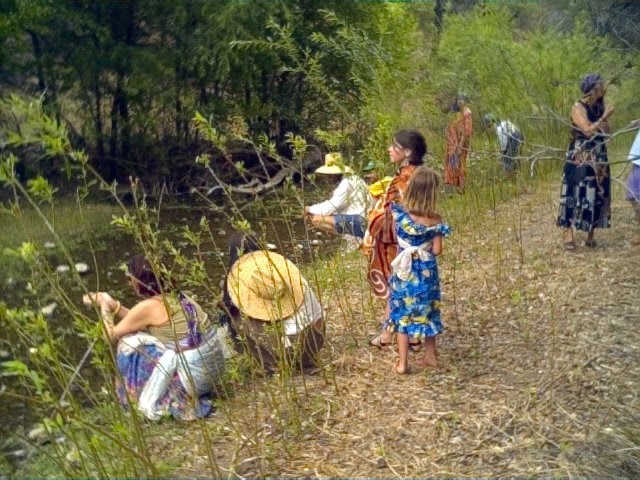 CLICK HERE TO SEE PHOTOS FROM
SOUTHWEST SUFI CAMP 2023

EXPERIENCE THE BEAUTY OF OUR NEW DANCE TEMPLE BUILT BY MICHAEL KOTHRADE
SUFI TEACHINGS, ZIKR, SOHBET, DANCES OF UNIVERSAL PEACE
3 SUMPTUOUS VEGETARIAN MEALS EACH DAY
SACRED WALKS ON THE LAND
PIR MOINEDDIN & WALI ALI'S DARGAH GARDENS
EAT, DANCE AND PRAY TOGETHER IN THE EXPANSIVE GILA WILDERNESS
Participation is limited and spaces will go quickly. A few indoor beds in the newly renovated Voice of the Turtle Retreat Center are available by reservations. Camping amenities include access to showers, outhouses, and fresh artesian spring water for drinking. Attendees are responsible for arranging their own transportation to/from the Land. Transportation from the local airport may be available for a small fee. Scholarships may be available. Exciting improvements are underway in this vibrant, intentional spiritual residential community, a vital part of Pir Moineddin's ever-unfolding vision. See below for Frequently Asked Questions.
Frequently Asked Questions
Can I bring my RV?
We suggest bringing RVs only if they are under 25′ long and powerful enough to navigate both up and down steep, rocky hills. The road leading to the Community is steep and rough and contains sharp switch-backs that are not recommended for inexperienced drivers.
Can I have a fire?
Open fires are not permitted during Camp. Please do not use incense, candles, or open flame lanterns outdoors or when camping.
Can I bring my pet?
While we love all animals, visiting pets are not allowed on the Land.
Is refrigeration available?
We cannot offer refrigeration to attendees during Camp. If you have items you wish to remain cold, we recommend bringing a cooler chilled with ice, frozen water bottles, or ice packs.
What can we expect from the weather?
While weather can be challenging to predict in this day and age, temperatures in Silver City during September are typically in the 60s during the day and the 50s at night, mostly sunny, with a few rainy days here and there.
Where are the bathrooms?
SSC is located off-grid and offers outdoor outhouses. Outhouses are located down hill from the Retreat Center, near the Dargah Hut, and in the Dance Meadow.
Can I drink the water?
Drinking water fresh from our year-round spring is available by the Retreat Center from the spigots in the yard.
Where can I shower?
Shared community showers are located in the Retreat Center and draw their water from our year-round spring. Those staying in the Retreat Center are welcome to use the indoor showers. All others are invited to use the outdoor showers. Please limit your shower time to 10 minutes during Camp to ensure that hot water is available for the next person.
Can I wade in Bear Creek?
The water in Bear Creek is okay for wading, but not for drinking. During Camp, an area for dunking and swimming in the Creek is designated. Wading in the Creek at other locations is fine. Children must be supervised at all times while at the Creek. Please respect our local flora and fauna and do not utilize the creek for washing of any kind.
What is your electricity like?
Electricity here is possible only with solar systems and capabilities are minimal. Please be mindful by turning off lights when not in use and not running or charging electronics with high demand after dark.
Can I use my phone and/or check email?
Our Community is entirely off-grid and at present there are no public phone or email options available. Some cell phones may or may not have service uphill from the main gate.
Cancellation Policy
Those cancelling their registration before September 1st will be refunded minus a $100 cancellation fee. No refunds will be offered after September 1st. However, those who register but cannot attend this event due to illness will receive credit of purchase price towards registration at a future Southwest Sufi Camp.
Wellness Policy
We are asking that everyone be responsible for their own well-being during Camp. Please be kind and attend Camp only if you are feeling perfectly well and experiencing no symptoms of contagious illness. Credit of purchase price towards a future Southwest Sufi Camp will be offered to those who cannot attend the event due to illness.
Vehicle Requirements
We strongly suggest that our visitors bring only high clearance or 4×4 vehicles to SSC. The road leading to the Community is steep and rugged and hard on vehicles, and is often impassable in rainy and snowy weather, even with 4WD.
Liability Waiver
All Campers must sign a Liability Waiver before arriving. This Waiver acknowledges that our Community will not be held responsible for any damages or hardships that may occur during your visit, including illness.
Location & Transportation
SSC is located approximately 20 miles from Silver City along a steep, rocky mountain road that takes one hour or more to traverse. High clearance and 4×4 vehicles are strongly recommended. Directions will be provided upon registration.
Attendees are responsible for arranging their own transportation from/to their airport of choice to/from the Land. Upon registering, attendees will be given an opportunity to join a Ride Share Board where they can explore offering rides to/receiving rides from others.
Airports & Rental Cars
CLOSEST LOCAL AIRPORT: Located only 30 minutes from Silver City and 1.5 hours from SSC, Grant County Airport is the most convenient way to arrive near Silver City. Tickets may be purchased at www.AdvancedAirlines.com.
Grant County Airport
188 Airport Rd
Hurley, NM 88043
(575) 388-4554
Rental cars are not available on-site. Arrangements must be made in advance by calling Silver Rentals at (575) 574- 2350.
EL PASO INTERNATIONAL AIRPORT:
It takes approximately 2.75 hours to get from the El Paso International Airport in Texas to Silver City, and another hour to get to SSC from there.
The website Rome2Rio details options for getting from Point A to Point B, although the most convenient method would be by rental car.
TUCSON AIRPORT:
It takes approximately 3 hours to get from the Tucson Airport in Arizona to Silver City, NM and another hour to get to SSC from there.
The website Rome2Rio details options available for getting from Point A to Point B, although the most convenient method would be by rental car.