Voice of the Turtle Retreat Center
CURRENTLY CLOSED WITH PLANS TO RE-OPEN IN FALL 2022
LEARN MORE ABOUT OUR NATURE PRESERVE
An Opportunity to Experience the Sacred Manuscript of Nature
Voice of the Turtle Retreat Center and Nature Preserve is located on 1,500 acres in the high desert Gila Mountains of New Mexico along approximately 2 miles of Bear Creek. Our elevation ranges from 5,200 feet along the lush, green riparian zones to 5,900 feet of hilly pinon and juniper woodlands. Though we are only an hour from the town of Silver City, we are surrounded primarily by National Forest or state land, adding to the profound sense of wild and seclusion that our residents and visitors are blessed to enjoy.
All are welcome to come to the Voice of the Turtle Retreat Center on Southwest Sufi Community land for their personal spiritual retreat.
We have many simple spaces available to house Retreatants. Our rustic off-grid accommodations are suitable for individuals, couples, and groups seeking a quiet space in which to reflect and explore the self and Nature.
Community House
Enjoy sharing space with others in this historic Ranch House featuring a newly-added Library.
The Dargah Hut
Pure solitude awaits you in this simple retreat hut featuring incredible views and profound silence. 
Adobe of the Message
Embrace privacy while keeping close to the amenities available to you at the Community House.
Camp on the Land
Bring your own small RV, van, or tent, or rent one of our luxurious bell tents for a true "glamping" experience.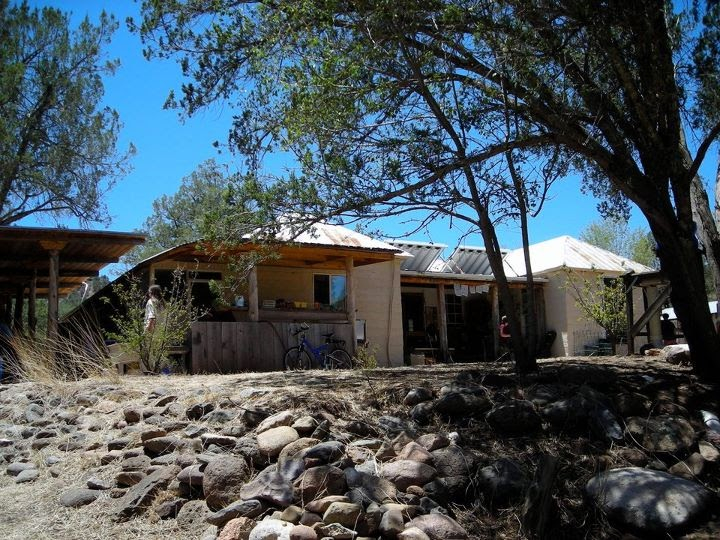 Our Retreat Center, also known as the Community House or historic Ranch House, is currently under renovation.
This homestead features a modest solar system that provides light in the darkness; Community living room with seating, meditation cushions, wood stove, and altar; three bedrooms with twin-sized beds; an office space; an indoor shower; a Community kitchen with running water from our artesian spring, refrigerators, and propane stoves/ovens, and a newly-added library with a wood stove, comfy seating, and access to a large collection of books centered around Sufism and spirituality. 
RATE: Donation of $40/Night/Person
Hazrat Moineddin Jablonski, Pir (spiritual director) of the Sufi Ruhaniat International for 30 years, had the vision upon which the Southwest Sufi Community was founded. His Dargah (burial place) is located at SSC on a site that he chose himself, and just above it sits the Dargah Retreat Hut, which is offered as a cozy retreat studio for one person.
A hike up steep, hilly terrain is required to access the Dargah Hut. It is a simple accommodation featuring a twin bed; wood stove; sink; propane camp stove (you provide propane canisters); dishes; book shelf; nearby outhouse; and, best of all, incredible views and solitude.
Retreatants camping on the Land are invited to use the Community House facilities for their cooking and bathing needs, and drinking water is available by way of our year-round artesian spring.
RATE: Donation of $25/Night
 The newly-remodeled Adobe of the Message has been occupied by many teachers and guides throughout the years and exudes a feeling of quiet peace and serenity.
This sweet studio space is located just West of the Retreat Center and allows for more privacy than our Community House. It features a modest solar system to provide light in the darkness;  Queen bed; nightstands; wood stove; table and chairs; couch; chest of drawers; closet to hang clothes; and a very small kitchenette with running water and propane camp stove (bring your own propane canister) for preparing hot beverages.
Retreatants staying here are invited to use the Community House facilities for their cooking and bathing needs.
RATE: Donation of $50/Night/Person
For those seeking more privacy than our accommodation options may provide, it is always a possibility to camp on the Land in one's own RV or tent, or to rent one of our spacious canvas bell tents*.
Retreatants camping on the Land are invited to use the Community House facilities for their cooking and bathing needs, and drinking water is available by way of our year-round artesian spring.
RATE (YOUR RV/TENT): Donation of $15/Night/Person
RATE (OUR BELL TENT): Donation of $30/Night/Person*
*when available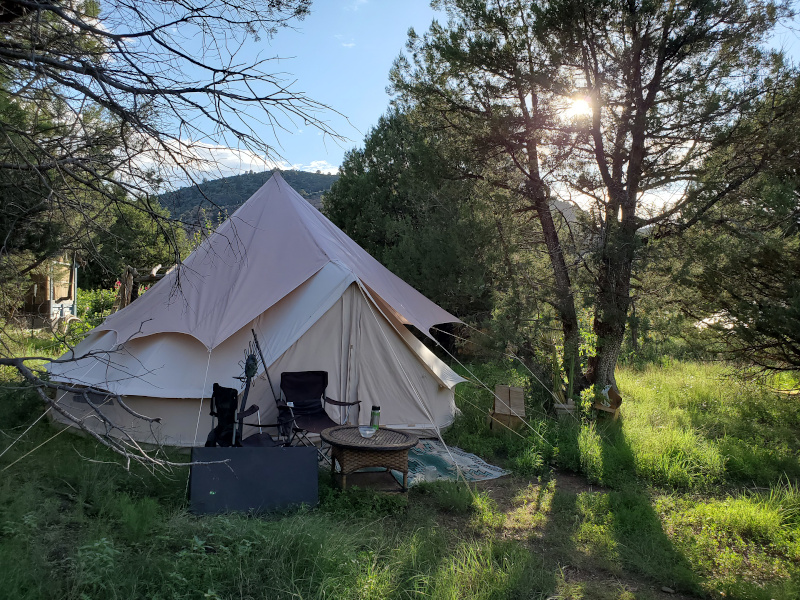 Frequently Asked Questions
Can I bring my large RV?
We suggest bringing RVs only if they are well under 30′ long and powerful enough to navigate steep hills. The road leading to the Community is steep and rough and contains sharp switch-backs that are not recommended for inexperienced drivers.
Can I have a fire?
Open fires are not permitted without approval. Please do not use incense, candles, or open flame lanterns outdoors or when camping unless it is a part of a ceremony or practice with prior approval. Incense and candles may be used indoors only when they are under the direct observation of an adult (person of 18 years of age or older). April through June are usually dry months here, so it is important to be especially careful with fire.
Can I bring my pet?
While we love all animals, visiting pets are not allowed on the Land.
Where are the bathrooms?
SSC is located off-grid and offers outdoor outhouses. Outhouses are located down hill from the Retreat Center, near the Dargah Hut, in the Dance Meadow, and near vehicle camping areas.
Can I drink the water?
Drinking water fresh from our year-round spring is available by the Retreat Center from the spigots in the yard.
Where can I shower?
Shared community showers are located in the Retreat Center and draw their water from our year-round spring. Those staying in the Retreat Center are welcome to use the indoor showers. All others are invited to use the outdoor showers.
Can I wade in Bear Creek?
The water in Bear Creek is okay for wading, but not for drinking. During camps, an area for dunking and swimming in the creek is designated. Wading in the creek at other locations is fine. Children must be supervised at all times while at the creek. Please respect our local flora and fauna and do not utilize the creek for washing of any kind.
What is your electricity like?
Electricity here is possible only with solar and capabilities are minimal. Please be mindful by turning off lights when not in use and not running electronics with high demand after dark.
Can I use my phone and/or check email?
Our Community is entirely off-grid and at present there are no public phone or email options available. Some cell phones may or may not have service uphill from the main gate.
Vehicle Requirements
We strongly suggest that our visitors bring only high clearance or 4×4 vehicles to our Community. The road leading to the Community is steep and rugged and hard on vehicles, and is often impassable in rainy and snowy weather, even with  4WD.
Liability Waiver
All visitors and retreatants must fill out a Liability Waiver before arriving. This Waiver acknowledges that our Community will not be held responsible for any damages or hardships that may occur during your visit.
How much does it cost to stay at Voice of the Turtle?
Community House:
$40/Night/Person
Dargah Retreat Hut:
$25/Night
Adobe of the Message:
$50/Night/Person
Camping (Your Tent/RV):
$15/Night/Person
Camping (Our Tent):
$30/Night/Person
We keep these fees as low as possible to accommodate all who may wish to visit. If you are able to offer more, your additional donation to help us maintain the Retreat Center is greatly appreciated.
See "Retreat Accommodations" for more information.
A Glimpse of the Voice of the Turtle Retreat Center
Our views of the Gila Wilderness are vast and inspiring. The sheer silence is palpable. The stars glimmer brightly in the velvet darkness. Here, nothing detracts from inner and outer solitude.