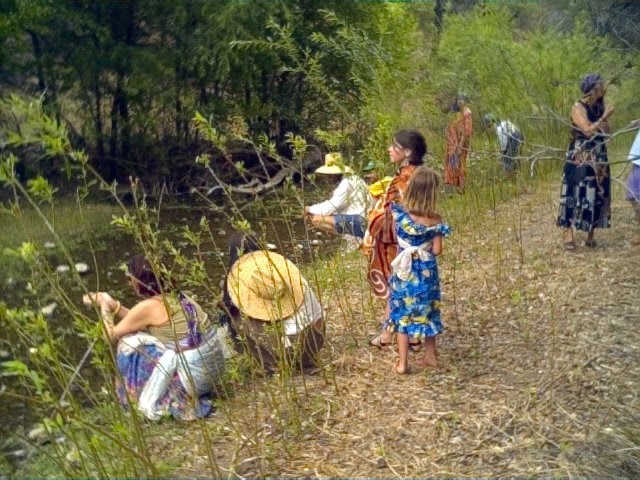 Your Donation Makes a Difference
The Southwest Sufi Community exists only because of the generosity of many extraordinary people.
A financial contribution is one of the many ways you can honor our Founder's dedication to bringing more Love, Harmony, and Beauty into the world. We are deeply grateful for those generous gifts which help us support the Voice of the Turtle Retreat Center, Khankah Gaia Noor Residential Community, and Nature Preserve.
The Southwest Sufi Community is an approved 501(c)(3) non-profit; we are happy to provide a copy of our Determination Letter upon request.
Volunteer! There Are So Many Ways to Lend a Helping Hand
While we are always grateful for financial contributions, there are many other ways to give to and participate at the Southwest Sufi Community.
Learn More About Volunteering
We are Deeply Grateful for Your Donation
Your generosity allows us to continue refurbishing and maintaining Our Retreat Center
Giving Online
We accept donations online through PayPal. CLICK HERE to donate using your credit or debit card or PayPal account.
Giving By Check
We are deeply grateful to receive your donation by check or money order at:
Southwest Sufi Community
PO Box 373
Silver City, NM 88062
Giving In Person
We are grateful for cash donations from our Retreatants and Friends visiting in person. You may leave your cash donation in the jar in the Community House or with your Host.
Gratitude for Our Supporters
Thank you to our Member Donors who have contributed at least $3,000 in money or work/trade hours in support of the Southwest Sufi Community:
Quan Yin Lyn Williams
Shaheeda Pierce
Katherine Jensen
Khadija Julia Goforth
Asha Lela
Michael H. Tindall
Richard Lindley
Janet Haqqikah Williams
Saladin & Samia Pelfrey
Shemsuddin Barksdale
Hafeez Gavin Perry
Zakir & Aziza Twaddle
Jim Brumfield
Amina Rae Horton
Susanne Bell
Tavis Habib Schmidt
Ali & Khalila Charles
Keith Berry
Elena & Akbar DeJardin
Susan Ayesha Maginnis
Amrita Skye Blaine
Azima Abbe Anderson
Hasibuddin Mark Smeder
Wali Ali Meyer
Kaf-I-Mariam Ellen Fietz Hall
Shakura Mary Jane Young
Rahma Jackie Davis
Siddiq & Majida Middlebrooks
Jean Pierre David
Zardhusht Chet Van Wert
Qayyum Dennis Klein
Cathy Owens
Jelaluddin Shuffield
Munir Michael Hagmeier
Boudewijn Boom
Shanna Bomberger
Jemaluddin Carl Hall
Peter Lipa
Azima Lila Forest
Patrick Shakur Linkenhoger
Linda Morrow
Jami Frank Milan
Ushidarena Janet Aniline
Zahir Barker
Suka Jon Thompson
Lilith Jean Speck
Darren Craig
Chris & Ahura Henke
Selim Bill Lockhart
Paul Wikstrom
Martha Blacklock
Sophia Shunny
Joanie Connors
Amos England
Rashad Wilson
Samia Wakkinen
Darwesh & Malika Walker
James J. Childress
Tom Morris
Jeremiah Kidd
Anandamayi Sherry Magee
Ghani Odell
Oliver Payne
Kate Moitoret
Sasha Mageras
Marilyn Rea
Sufi Ruhaniat International
Lynda Aiman-Smith
Alexi Charter
Bahaar Thomas
Pir Shabda Kahn